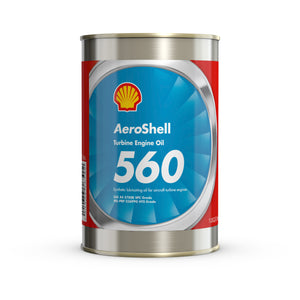 About AeroShell Turbine Engine Oil 560
AeroShell Turbine Engine Oil 560 is a third-generation 5-centistoke synthetic hindered ester lubricating oil, which offers reduced coking, improved wear resistance, and all-round commercially viable performance for modern jet engines. 
Formulated to cope with demanding operating conditions, ASTO 560 has consistently delivered the right balance of performance and cost efficiency to the global aviation industry for the past 25 years.
AeroShell Turbine Engine Oil 560 Features and Benefits
ASTO 560 is developed based on a deep understanding of commercial aviation requirements. The result is a versatile lubricating oil proven to deliver cleaner engines, more reliable operational performance and longer maintenance cycles.
AeroShell Turbine Engine Oil 560 specifications
US

 

– Approved MIL-PRF-23699G Grade HTS, Approved SAE AS5780B Grade SPC
British

 

– Equivalent DEFSTAN 91-101
French

 

– Equivalent DCSEA 299/A
Russian

 

– Analogue to VNII NP 50-1-4F, B3V, LZ-240, VNII NP 50-1-4U, and 36/Ku-A
NATO Code

 

– O-154
Joint Service Designation

 

– Equivalent OX-27