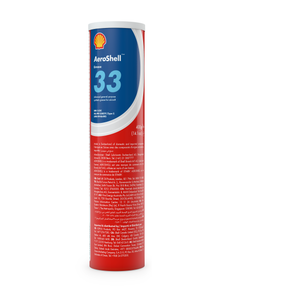 AeroShell Grease 33 specifications
US – Approved MIL-PRF-23827C (Type I)
France – Approved DCSEA 354/A

NATO Code – G-354

SAE – Exceeds AMS 3052

Boeing – Approved BMS 3-33C
Airbus – Approved AIMS 09-06-002
About AeroShell Grease 33
Of 359 grease application points on a Boeing 737, AeroShell Grease 33 lubricates all but 9 of them
Historically, aircraft maintenance operations had to carry several greases for different lubrication needs. But then Shell developed AeroShell Grease 33 (ASG33) – a universal airframe grease. ASG33 is effective on virtually all airframe components. For those components where ASG33 is not suitable, AeroShell Grease 22 will do the job. A complete grease range in two products.
AeroShell Grease 33 provides all-round protection in the harshest of conditions, from temperatures as low as -54°C through to scorching heat. All the while, AeroShell Grease 33 helps maintain mechanical stability, avoids water washout and protects your aircraft parts from corrosion caused by de-icing fluids. It often exceeds industry requirements and outperforms many AeroShell Grease 33 alternatives in laboratory tests – making it a trustworthy choice for facing the extreme conditions your aircraft will face.
Why use AeroShell Grease 33?
Quite simply, AeroShell Grease 33 sets the standard. That's why some of aviation's biggest manufacturers – including Airbus, Boeing and Comac – choose to use it. If it's good enough for businesses with a strong reputation for excellence, you know you can trust our product and pricing.
Here are a few more reasons to choose AeroShell Grease 33:
Replacing the number of greases used on the aircraft with a common grease lessens the likelihood of misapplication of the wrong grease and damage to the aircraft;
The much-improved corrosion resistance and wear protection properties of ASG33 help prevent expensive replacement of parts by extending maintenance life while also allowing lubrication intervals to be extended; and
Replacing a range of greases with just one reduces stock inventory and costs.